Specialist Numerical Analysis
Numerical Analysis Services
Solution of complex and unusual engineering problems.
Optimising design to maximise cost savings.
Analysis of product variations without having to manufacture prototypes.
Dynamic, seismic and environmental loadings analysis.
Natural frequency and resonance studies.
3-dimensional and non-linear finite element structural/mechanical analysis.
Geohydrological, seepage, groundwater, pollution and sediment transport modelling.

Geotechnical analysis.
Hydrostatic analysis.
Hydrodynamic analysis.
Fatigue and vibration analysis.
Forensic engineering.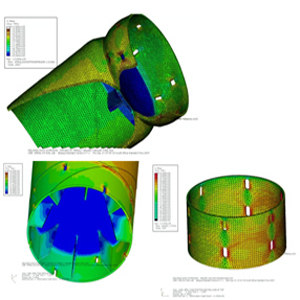 FEA of A-Frame for offshore mining vessel MV Sakawe Explorer, for increased loading.

Malongo Dock Extension, Cabinda, Angola – FEA of pile modifications and pile stresses during driving.

Cape Town Container Terminal Expansion Project, South Africa – FEA associated with the design.
Container Port and Ro-ro, Port of Nsanje, Malawi – FEA associated with the design.

NMPP Accumulator Tanks, Durban – FEA associated with the structural assessment of the tanks at Island View.