Port, Harbour & Coastal Engineering
Port, Harbour & Coastal Engineering Services
Feasibility, planning, design and analysis of port and harbour works.
Design of all types of marine infrastructure.
Port rehabilitation.
Geotechnical and structural design of marine foundations.
Design and analysis of piles, including installation analysis.
Dredging, turbidity and physical impact studies
Design condition & wave climate evaluations.
Mooring and tethering studies.
Diffraction studies.
Sediment transport.
Navigation studies.
Full bridge simulations.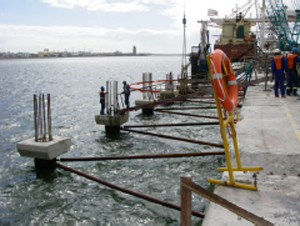 Cape Town Container Terminal Expansion Project, South Africa – Detail design and construction monitoring of marine works.
Alternative Design, North Mole – Hout Bay Harbour, South Africa
DCT Berth 203 to 205 Reconstruction, Deepening & Lengthening Project – Port of Durban, South Africa
Container Port and Ro-ro, Port of Nsanje, Malawi – Design and construction supervision.
Port of Fujairah Service Harbour Marine Works and Buildings – United Arab Emirates.

Detail design and construction, support and monitoring, new port at Nsanje, Malawi.