Offshore Engineering Services
Offshore environmental design conditions and wave climate studies.
Design and analysis of offshore fixed and floating structures and vessels, pipelines, foundations, mooring buoys and piles.
Deep sea dredging, drilling and mining.
Dynamic and mooring studies.
Risk, scheduling and installation procedures.
Lift and transportation analysis and design.
Laydown analysis and design.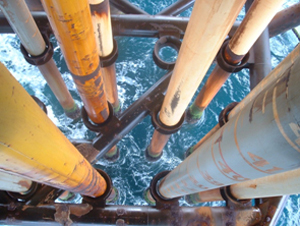 Saldanha Sunrise Energy LPG Import & Storage Terminal Project, South Africa – Feasibility study for terminal including SPM/CBM options.

Oribi-Oryx Field – Engineering analysis and design associated with the subsea decommissioning and laydown of risers of the Orca from the Oribi-Oryx field.

FA Offshore Gas Platform, South Africa – Impact analysis after impact of supply vessel on the structure.

Orca Floating Production Platform – Design of cofferdam for repairs to rig.

FA Offshore Gas Platform, South Africa – Structural assessment of jacket in 105m of water (90 km South of Mossel Bay in the South Indian Ocean) for inplace and fatigue due to approaching end of design life.